Are We Headed for a Recession?
Are We Headed for a Recession?
For those of you who don't know what a recession is, I have a simple explanation. It's a period of temporary economic decline during which trade and industrial activity are reduced, generally identified by a fall in GDP in two successive quarters.
In our lifetime, most of us have lived through at least 3 or more of these. It's a healthy pullback.
Why is everybody making such a big deal about it? If you've been watching the news lately, it can be depressing. How many of you have changed your lives because you are in fear of a recession? No matter where I go, people stop and ask me if we are headed for a recession.
What would you do differently if you knew it was going to happen?
Would you take fewer vacations or none at all?
Would you stop shopping or spend less on your clothes?
Would you save more?
Would you eat out less or skip a few meals?
The fear itself is almost a self-fulfilling prophecy. Think about this for a moment. If everybody spends less, we will have a recession.
Job losses are the worst when it comes to a heavy-duty recession. I can recall many of my friends and their husbands losing their jobs in 2008. Is your job recession-proof?
We are currently in a full-fledged Buyers market in Illinois. A big percentage 71% (7 out of 10) of the 780 villages/towns in our state of Illinois have more than 6 months of inventory. This means it would take 6+ months or more to sell all the homes currently on the market in these towns A Buyers market in basic economic terms means more supply and less demand normally leads to reduced home prices.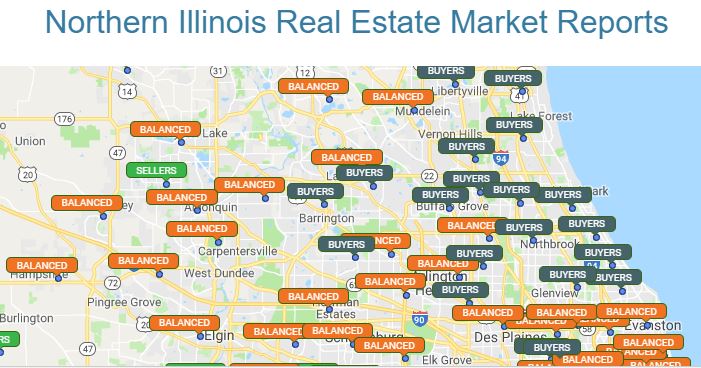 Mark Fleming, First American's Chief Economist, explained:
"If a recession is to occur, it is unlikely to be caused by housing-related activity, and therefore the housing sector should be one of the leading sources to come out of the recession."
And U.S. News and World Report agreed:
"Fortunately – and hopefully – the history of recessions and current issues that could harm the economy don't lead many to believe the housing market crash will repeat itself in an upcoming decline."
Bottom Line
A recession is probably less than two years away. A housing crisis is not.