How Do You Handle a Final Walk-Through with a Client? Do You Use a Checklist?
One of your final tasks as a home buyer is to walk through the new house one last time before signing any papers. While this step may not seem necessary to you since you've done everything else and are ready to sign the papers and get your new keys, trust us when we say that this step should be taken very seriously. If it is not something you can do, then you should request that your realtor or someone you trust completely take this task upon themselves.
The final walk through is of the utmost importance to you and to the entity you're purchasing the home from. Why is it so important? Simple, because when the time comes to make your first mortgage payment, you are not going to want any surprises that could cost you more money than you are already willing to pay.
A smart idea is to have a checklist ready and available for your final walk through. No matter if you're certain you've checked every nook and cranny of your new home, there is still a slight chance you could find another small or large problem.
Having a checklist in your hands when performing your walk through can be a helpful implement to eliminate any surprises that may be lurking. Below we'll give you a few checklist ideas, and you can adapt them to your personal needs and use them as you see fit. Remember, a final walk through before signing any papers is essential for your purchase, we can't stress this enough, especially if you are a first time buyer.
What to Take With You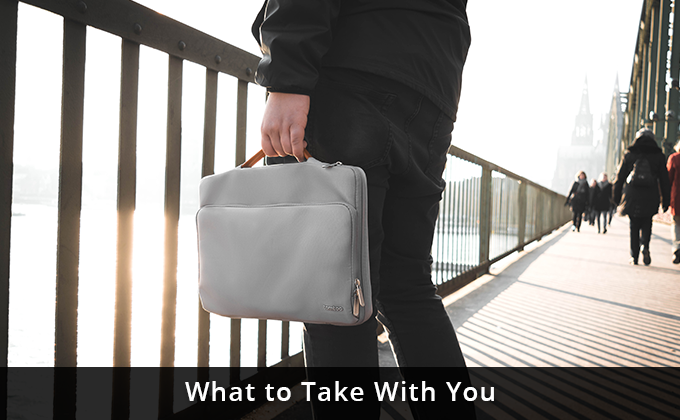 When you're ready to take your final walk through, make sure you pack all of the following items in your purse, briefcase, backpack, binder, or folder and take them with you to your new house.
Your contract–to confirm that what you are seeing matches the contract.
A notebook–take detailed notes of the rooms and any findings that cause you concern. Also make a note of the date, time and who is with you during your walk through.
A camera–take photos of any damages you find and of any areas that need work done before signing papers.
The inspection report–the report that the home inspector provide you with when he finished his inspection, to refer to it in case something doesn't match what is written and that any repairs have been made.
Don't forget your sales agreement—your sales agreement will tell you what comes with your purchase, such as appliances or furniture. Be sure to compare your sales agreement to the items that are in the home, to be sure they match what is agreed upon
Your sales agreement will tell you what comes with your purchase, such as appliances or furniture. Be sure to compare your sales agreement to the items that are in the home, to be sure they match what is agreed upon
Take your real estate agent with you–never take a final walk through without your real estate agent. They must be present, it's better to have two sets of eyes checking out the home. Plus, they can answer any questions you may have about anything.
Your cellphone and charger–some people will use their phones as cameras, and by bringing your charger, you can verify the electric plugs all work.
Have All of the Repairs Been Completed?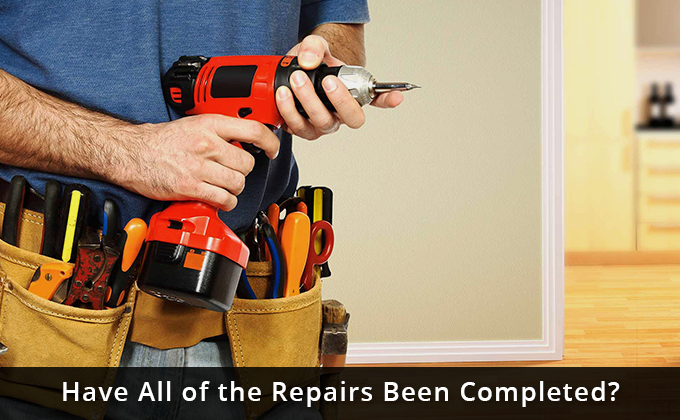 The final walkthrough is your chance to double check that all repairs promised were completed properly. The inspection report may have this information as well. Another thing to look for is any receipts or warranties that the seller has left to show proof of the repairs being done. This way, if something ends up breaking, you will have a way to contact the contractor(s) that did the work. Don't forget to compare them to the inspection report, for confirmation all is done.
Open All Windows and Doors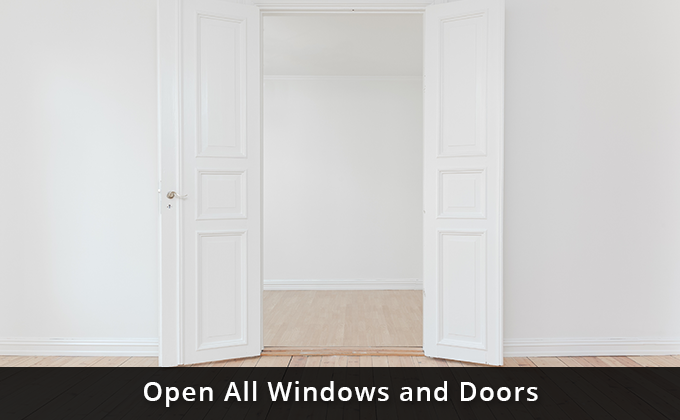 This way you can make sure that they all open correctly and they do not need any repairs. Look for broken windows and rusted hinges that should be replaced so that when you move in your belongings are safe and secure.
Also make sure any unwanted items have been removed and that all repair materials have been cleared away and the property is clean and there is no visible damage.
Check the Plumbing and Kitchen Appliances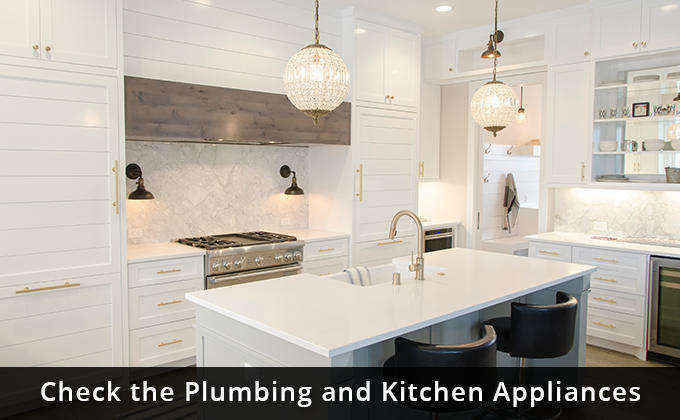 Run water in all the sinks, tub, and shower to check for any leaks underneath in the pipes or drips from the faucets. You can check the outdoor spigots too, just to be certain that there are no leaks in any of the plumbing throughout the home. Don't forget to flush toilets also.
If your sales agreement states that appliances are included in the sale, then those should also be checked to confirm they are in working order. This includes the garbage disposal if the home has one as well as any exhaust fans. And since you're checking the appliances, if the home has a washer and dryer that are included in the sale, head to the laundry room to check those and the laundry tub.
Try Out the Heating and Air Conditioning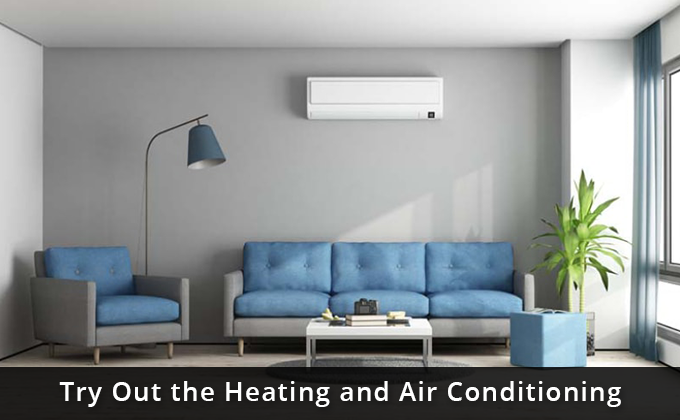 Use the same concept here, turn the heat on and off as well as the air conditioning unit, to make sure both are working satisfactorily. This should be done even if the home doesn't have central heating or air. If your sales agreement includes window units, then those should be checked as well.
Check for Pests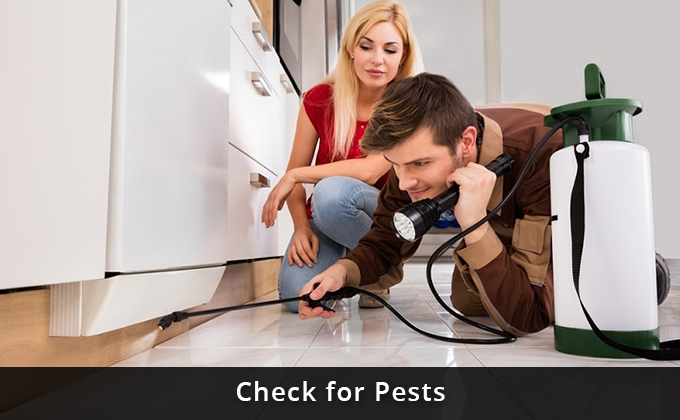 Termites have a habit of hiding out when you do your final walk through, its like they know! In any case, during your last walk through, be sure to keep an eye open for dry rot, falling timbers, or even cracked walls, sidewalks, porches, decks,spongy feeling floors, and so on as some of these can mean there are termites hiding out. Watch out for droppings from mice or other rodents as well. You want to make sure that your home is truly uninhabited by anyone or anything.
A Few Other Things to Keep an Eye Out For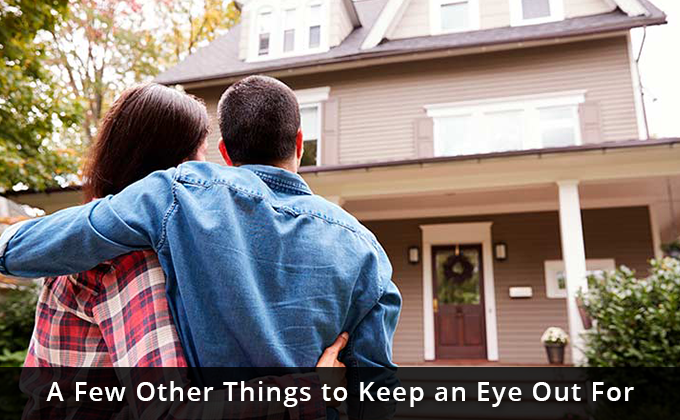 While most people are honest, there are a few sellers that will purposely hide things from potential buyers. Keep an eye out for any of the following as you do your last and final walk through. Some of these were already mentioned, but we see no reason not to mention them one more time for you.
Leaks
Pest problems
Foundation or roof issues
Emotional tragedies–these include hauntings, murders,suicides, and more. Keep in mind that not all states in the union require sellers to disclose this information to new owners, but you still have the right to know so do not be afraid to ask questions.
Check the age of water heaters, furnaces, and HVAC systems–some sellers may hide this information from buyers.
While this checklist is designed to give you as much information as possible on your new purchase, feel free to adapt it to your personal needs and don't be afraid to talk to you new neighbours about the home you're going to be buying. Good Luck!